Destination
澳洲 Australia
Australia belongs to the Oceania continent, between the Indian Ocean and the South Pacific Ocean. With a total area of 7,686,850 km2, it is the smallest continent but the sixth-largest country in the world. Aboriginal settlers arrived on the continent from Southeast Asia about 40,000 years before the first Europeans began exploration in the 17th century. No formal territorial claims were made until 1770, when Captain James Cook took possession in the name of Great Britain. Six colonies were created in the late 18th and 19th centuries; they federated and became the Commonwealth of Australia in 1901. The new country took advantage of its natural resources to rapidly develop agricultural and manufacturing industries and allied with Britain in World Wars I and II. In recent decades, Australia has transformed itself into an internationally competitive, advanced market economy. It is one of the OECD's fastest growing economies during the 1990s subsequent to economic reforms in the 1980s. Per capita GDP in 2007 is US$43,312 compared to US$29,650 for Hong Kong.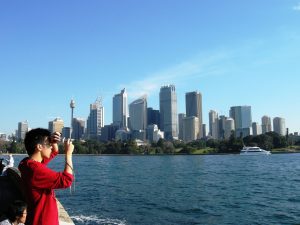 Australia is made up of 6 states and 2 territories. The six states are New South Wales, Queensland, South Australia, Tasmania, Victoria and Western Australia; while the two territories are Australian Capital Territory (ACT) and Northern Territory. Australia is generally arid to semiarid, experiencing a temperate climate in the south and east, and a tropical climate in the north. The country is dominated mostly by low plateaus and deserts while fertile plains are found in the southeast. Owing to the dry climate condition and long history of geomorphic processes, fertile agricultural lands constitute only 6.15% of the total land area. The present population is just over 21 million, and 60% of them concentrated in and around the mainland state capitals of Sydney, Melbourne, Brisbane, Perth, and Adelaide. Nearly 70% of the population is Catholics and Christians, and English is the official language. The capital city is Canberra, located in the ACT.
 
Australia is facing many environmental problems, including soil erosion from overgrazing, poor farming practices and infrastructure construction; rising soil salinity due to the use of poor quality water; desertification; the loss of biodiversity resulting from clearance of lands for agricultural purposes; and limited freshwater resources. The Great Barrier Reef off the northeast coast, the largest coral reef in the world, is threatened by increased shipping and rapid tourism development. Long-term concerns include climate-change issues such as depletion of the ozone layer, more frequent droughts and management and conservation of coastal areas, especially the Great Barrier Reef.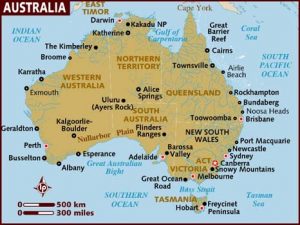 Map of Australia (source:http://www.lonelyplanet.com/maps/pacific/australia/)
Cairns
Cairns is a regional city and Local Government Area in Queensland, at latitude 16o55'S and longitude 145o46'E. It is located on the east coast of Cape York Peninsula on a coastal strip between the Coral Sea and the Great Dividing Range. It was settled in 1876, and named after the then Governor of Queensland William Wellington Cairns to serve miners heading for the Hodgkinson River goldfield. It developed gradually into a rail hub and major port for the exportation of sugar cane, gold, precious metals and agricultural produce from the surrounding coastal and Tableland regions. With a population of 122,731 in 2006, the city is now reliant on the sugar and tourism industries. Cairns is a regional centre for heritage tourism and there are about 0.8-1.0 million visitors annually within the last decade.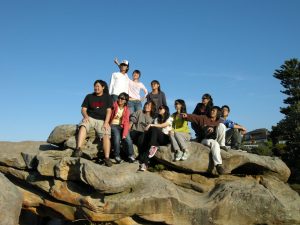 It is a popular travel destination for foreign tourists because of its tropical climate and proximity to two world heritage areas, namely the Great Barrier Reef and Wet Tropics of Queensland. The Great Barrier Reefcan be reached in less than an hour by boat while the Daintree National Park and Cape Tribulation, about 130 km north of Cairns, are popular areas for experiencing a tropical rainforest. It is also a starting point for people wanting to explore Cooktown, Cape York Peninsula, and the Atherton Tableland. Cairns has used its natural surroundings to its advantage with the construction of several small theme parks for tourists. Among them are Rainforestation Nature Park, the Tjapukai Aboriginal Cultural Park and the Kuranda SkyrailGondola Cableway, which extends for 7.5 km over World Heritage rainforest. Indeed, tourism plays a major part in the Cairns economy. It is the 4th most popular destination for international tourists in Australia, after Sydney, Melbourne and Brisbane. Although the city does not rank amongst Australia's top 10 destinations for domestic tourism, it attracts many Australian holiday makers given its distance from major capitals. The city contains hundreds of hotels, resorts, motels and backpackers hostels. Activities in the region include golf, snorkelling, diving and hiking.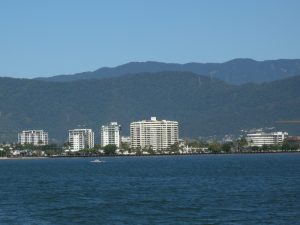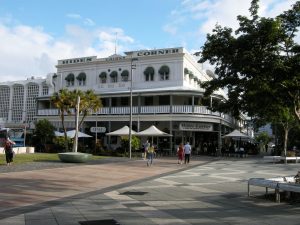 Sydney
Sydney is the most populous and famous city in Australia and sprawls over about 1800 km2 of land. It is the state capital of New South Wales.
It has a great historical significance of Australia. It is the origin of European settlement on the continent of Australasia. On 26th January, 1788, Arthur Philip from the Great Britain, who was the leader of the First Fleet, landed on a site (Nowadays called The Rocks) next to the Port Jackson and established the British colony here. He named the cove where the site next to after the British Home Secretary, Thomas Townshend, Lord Sydney, in recognition of Sydney's role in issuing the charter authorising Phillip to establish a colony.
Sydney is a city with dense population and diverse population origin. The 2006 census reported 4,119,190 residents in the Sydney Statistical Division, of which 3,641,422 lived in Sydney's urban area. Inner Sydney was the most densely populated place in Australia with 4,023 persons per square kilometre. In the 2006 census, the most common self-described ancestries identified for Sydney residents were Australian, English, Irish, Scottish and Chinese. The Census also recorded that one per cent of Sydney's population identified as being of indigenous origin and 31.7 per cent were born overseas. The three major sources of immigrants are the United Kingdom, China and New Zealand. Significant numbers of immigrants also came from Vietnam, Lebanon, Italy, India and the Philippines. Most Sydneysiders are native speakers of English; many have a second language, the most common being Arabic (predominately Lebanese), Chinese languages (mostly Mandarin or Cantonese), and Italian.[48] Sydney has the seventh largest percentage of a foreign born population in the world, ahead of cities such as the highly multicultural London and Paris.[52]
The port has developed from the harbour into a sprawling urban agglomeration;
It is a nodal point of the road and rail network;
It represents the largest manufacturing center in NSW and Australia, and this means a large population of industrial and factory workers;
It is also a leader in tertiary and service industries (finance, banking, insurance, IT, etc.);
Recently, Sydney, along with Melbourne, have become more ethnically diverse;
As a result, there has been the emergence of new ethnic geographies by developing distinctive 'enclaves'. Notable examples are the Chinatown and Vietnam Town.
Itinerary and Schedule
The Australia field trip has been organized by the Department of Geography and Resource Management to take students to the country's two cities, Cairns and Sydney, and their surrounding areas for a comprehensive study of a wide range of geographical issues. The study group consist of 58 undergraduate students, together with Prof. Chau Kwai Cheong and Prof. Lam Kin Che as the trip leader, and Mr. Yu Lap Yan Dannies as the graduate assistant. The trip lasted for 12 days in total from 19-30 May 2008.
Study Mode
Students were divided into 4 groups before the trip. To broaden students' vision, study topics related to variuos aspects of geography were assigned to each group and students were required to search relevant information and submit a study plan before departure. During the trip, various forms of studies such as guided tours, lectures, land use observations and questionnaire surveys were conducted. In the evenings students were required to present their findings about their study topics in the form of powerpoint presentation. After the trip, studnets were required to sumit a paper about the study topics of the field trip.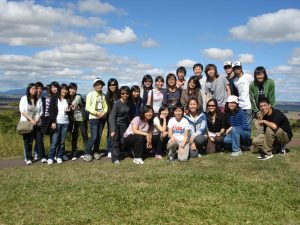 Visit of Atherton Tableland: Regional geography, land use, agriculture, rainforest heritage tourism and sugarcane plantation
Visit of Green Island: The Great Barrier Reef Heritage Area conservation and management, ecotourism development & visitor impact
Exploration of Smithfield Conservation Park
Exploratory study in Cairns – Land use, city functions, urban vegetation and waterfront design
Departure to Sydney, Orientation tour in Sydney
Exploratory study in Sydney – The City Forming Processes
Exploratory study in Sydney – Urban Design for Quality of Life
Exploratory study in Sydney – Growth of Sydney Metropolis
Student Sharing
Presentations of Students
To encourage active learning of students, students were required to present in evening preentation sessions. To finish the tasks, students needed to do various kinds of work such as doing interviews, attending lecture,and joining guided-tours etc. This allow the students to apply theoretical knowledge, co-operate each other and interact with the local people. Topics of diverse aspects were assigned to each group to broaden the horizons.
The Focus Topics by Day
Day 1 Knowing Cairns City and The Region
Day 2 The Atherton Tableland
Day 3 The Great Barrier Reef (Green Island)
Day 4 James Cook Uniersity and Smithfield Conservation Park
Day 5 Cairns City
Day 7 The City Forming Process
Day 8 Urban Design for Liveability
Day 9 Groeth of Sydney Metropolis
Day 1 Knowing Cairns City and The Region
Students started the Australia trip with a walk of Cairns City, which is a small city but unique in its relationship with the surrounding area. It lies between two world heritage areas, namely the Great Barrier Reef and the Wet Tropics of Queensland. Because of its location, the city has evolved into a center for the flow of commodities and tourists in northern Queensland. The main purposes of this exercise were to:
Familiarize with Cairns and its place in northern Queensland
Practise observation skills and identify some unique features and characteristics of Cairns to improve students' study plan on 24 May
Group presentation files:
Group A :Cairns in the eyes of tourists Group A – Cairns in the eyes of tourists
Group B: First impression on Cairns Group B – Presentation of day 1
Group C: Multi-nationality on food in Cairns Group C – Multi-nationality on food
Group D : Recreation land use in Cairns Group D – Recreation land use in Cairns Day 1 presentation( finalised)
Day 2 The Atherton Tableland
The purpose of this visit was to understand the regional geography and man-land environment of Atherton Tableland . The places of visit and themes are as follows:
Place

Themes

1

Cairns coastal plain

Interface between the Coral Sea & Tableland

2

Kuranda

Tropical rainforest ecotourism hotspot

3

Barron River & Lake Tinaroo

Water resources development – irrigation, water supply, HEP, flood control, recreation etc

4

Mareeba-Dimbulah Irrigation Channel

Agriculture – auxiliary energy subsidy, market gardening, horticulture, fruit crops, pasture etc

5

Atherton

Largest town on Tableland – historical development & contemporary role

6

Yungaburra

Tourism hotspot 

7

Danbulla National Park

Ecotourism, heritage area resource use, Cathedral Fig Tree

8

Malanda Falls

Tourism & recreation

9

Lake Eacham & Lake Barrine

Crater lakes, ecotourism hotspots

10

Gordonvale

Agroecosystem, sugarcane plantation & mill,
impacts of agriculture on environment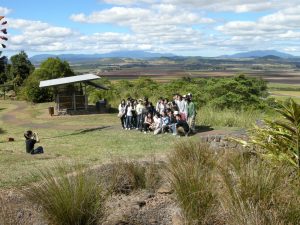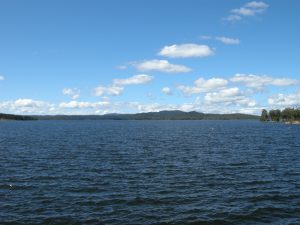 Students taking photos on the Atherton Tableland The beautiful Lake Tinaroo
To understand the regional geography of Atherton Tableland, each group was given a specific task below.
Group A : Wet Tropics of Queensland Heritage Area – Good practices in heritage area conservation and management, as well as conflicts between conservation and development Group A – Wet Tropics Heritage Area Group B – Agriculture in Atherton Tableland
Group B : Agriculture – Agricultural potentials and constraints, energy subsidies (agrochemicals, irrigation, mechanization etc), impacts on environment, crops Group B – Agriculture in Atherton Tableland
Group C: Tourism/recreation – Tourism/recreation resources, demand and impacts on the environment Group C – Tourism and recreation in Atherton Tableland
Group D: Land use from coastal plain to the Great Dividing Range – Types of land use and distribution, characteristics and effect of physical environment etc Group D – Land Uses on Atherton Tableland
Day 3 The Great Barrier Reef (Green Island)
The Green Island, about 27 km east of Cairns, is one of the coral reefs of the Great Barrier Reef World Heritage Area (GBRWHA) of Australia. The GBRWHA is both a biodiversity and tourism hotspot. It is also one of 300 sand cays, formed about 6,000 years ago during the last Ice Age, on the Great Barrier Reef but the only one with a topical rainforest. The theme of today's study is reef conservation and management, tourism development and threats.
Group A : Reef tourism and recreation Group A – Reef Tourism and Recreation
Group B : Great Barrier Reef World Heritage Area (GBRWHA) Group B – Marine Park and National Park
Group C : Conservation and sustainable management of the Coral Reef Group C – Conservation and Sustainable Management of Coral Reef
Group D : Visitor impacts, threats and future development of Green Island Group D – Visitors' Imapct
Day 4 James Cook Uniersity and Smithfield Conservation Park
To many students from Hong Kong, it is perhaps a lifetime experience to visit a tropical rainforest that has the highest species biodiversity in the world. A biogeographer from James Cook University (JCU), Professor Stephen Turton, gave the students a lecture on this topic and personally leaded the students to visit a tropical rainforest near the university.
About the speaker
Professor Stephen Turton is a biogeographer and climatologist, who is the Executive Director for the James Cook University/CSIRO Tropical Landscapes Joint Venture, Australian Tropical Forest Institute located at James Cook University in Cairns. His research interests include rainforest ecology, tropical climatology and natural resource management. He is a Councilor of the Institute of Australian Geographers.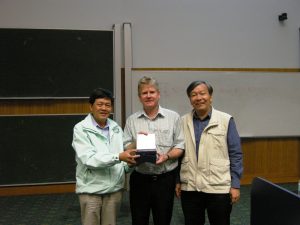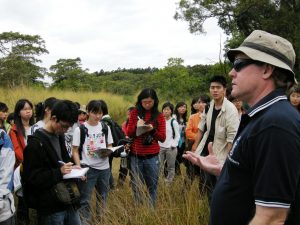 From the left: Prof. Lam Kin Che, Prof. Stephen Turton and Prof. Chau Kwai Cheong
Prof. Turton teaching the students in the Smithfield Conservation Park
Smithfield Conservation Park is part of the Wet Tropics of Queensland World Heritage Area (WTQWHA). It is currently used as a field teaching station by JCU. Although sampling is not permitted inside the heritage forest, students were still required to perform the tasks below to fulfill your learning experience.
Day 5 Cairns City
Having visited two heritage areas at close proximity to Cairns, we return to examine its land use, environment, and functional role in northern Queensland.
Group A Land use
Identify and map the different types of land use in Cairns including: Commercial, residential, industrial, open space, transport, government/institution/community, agriculture, recreation, green belts and parks, conservation area and coastal protection area etc. Group A – Land Uses in Cairns City
Group B Urban vegetation
Urban vegetation or greenery is an important component of a city. It refers to trees, shrubs, climbers, grasses and herbs that are planted along a street or in open space, parks and stadium. These plants perform different functions in a congested urban environment; namely, climate amelioration, beautification, traffic noise reduction, air cleansing, softening hard architectural lines and screening of unsightly objects etc. Group B – Urban Vegetation
Group C Functions of Cairns in northern Queensland
Cairns is strategically located on the coast of northern Queensland in between the Coral Sea and Cairns Highlands. Gorp C has to prove that Cairns is a regional city in the area. Group C – The Functions of Cairns
Group D Waterfront design and use
Waterfront design and use in Cairns is unique and different from that of Hong Kong. The purpose of this study is to examine the concept, features and good practices of waterfront design in Cairns. The study area shall be confined to the coastal strip in front of the Esplanade. Group D – Waterfront(Cairns)
Sydney Part:
Day 7 The City Forming Process
The purpose of the study is to find out the driving forces and changes that have taken place to make Sydney a World City.
The attributes of a World City will include the following:
Key location of major financial centers/financial services;
Concentration of the headquarters of transnational corporations;
International institutions;
Centre of global accumulation of capital;
A commanding nodes (control point) of the global system;
Additional characteristics such as centres of political power,
National transportation centres,
Centres of science and education, arts, media and entertainment;
There is rapid growth of business services.
To understand the urban transformation process, students are divided into four groups, focusing respectively on:
CBD – driving forces and characteristics which make Sydney a World City
Urban Regeneration – land use changes and planning/design efforts to revitalize old industrial areas
Chinatown & Vietnamese Town – study of two enclaves in the city which reflect the multi-ethnicity of this World City
Urban Slum – characters and changes in the poorest part of the City which is just adjacent to the City centre
The theme and sub-themes for the groups on Day 7 are listed as follows:
Group A : CBD Group A – CBD_Sydney
Group B : Urban RegenerationGroup B – Urban Regeneration
Group C : China/Vietnamese Towns pdf file
Group D : Urban Slum Group D – Urban Slum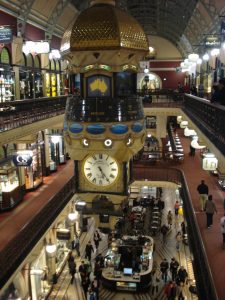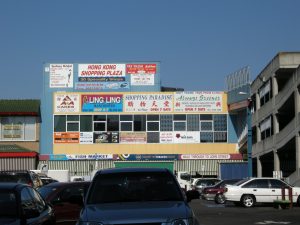 The Queen Victoria Building (QVB)
Cabramatta – One of the Chinese/Vietnamese Towns in Sydney
Day 8 Urban Design for Liveability
To enhance "liveability", the city should:
offer a wide range of activities and opportunities
offer a high quality environment
provide a public realm of parks and open spaces
maintain a retail renaissance, including more restaurants and cafes
provide abundant facilities for arts and cultural pursuits, including public places and historical heritage
cater for the needs of pedestrians, commuters, shoppers and the disabled supported by comprehensive and tasteful signage
On Day 8, the four groups will examine the following aspects:
The Streetscape and Pedestrian Environment
Urban Parks
Public Place, Squares and Museums
The Waterfront
The theme and sub-themes for the groups on Day 8 are listed as follows:
Group A : The Streetscape and Pedestrian Environment Group A – The Streetscape and Pedestrian Environment
Group B : Urban Parks Group B – Urban Parks
Group C : Public places, Squares and Museums Group C – Livability on Public Places, Museums and Cultural
Group D : Water front Group D – Waterfront(Sydney)
Day 9 Groeth of Sydney Metropolis
All of Australia's large cities have distinctive rural-urban fringes. These fringes, as in Sydney, contain both an outer suburban area of metropolitan growth, and the countryside further out. There is often a mixture of rural and urban activities.
Sydney is the fastest growing city in Australia. To accommodate the increase in population, the spatial extent of Sydney keeps on increasing all the time, resulting in more and more suburbs. The location and pattern of suburbanization is determined by the network of highways and railways, as well as the land value and living conditions in the city centre.
Suburban areas are characterized by the daily commuting by residents to the CBD and other urban areas for work. Most of the outer suburban areas like Mt. Druitt, Eastwood, Hornsby and even Blue Mountains have accommodated most of Sydney's population growth since 1981. One of the concerns of unabated suburbanization is the convergence of traffic into the City Centre if the suburbs are not self-sufficient and if the City Centre and suburbs are not connected by "sustainable" transport. The urban form of a metropolis is shaped to a large extent by the transport strategy and technology. The same urban growth pattern is also echoed in Hong Kong, in the form of "New Towns".
For this part, students are divided into four groups to visit four sub-groups, examining (a) Eastwood – a suburb on the rail network with a concentration of ethnic groups; (b) Mt. Druitt – a relatively new and self-sufficient suburb on the railway far away from Sydney City Centre; (c) Hornsby – a middle class suburb served by rail and highway; and (d) Manly – a upper-middle class suburb served by public bus and ferry.
Group A :Eastwood – Macquarie Centre: Suburb with Strong Ethnicity Group A – Eastwood – Macquarie Center
Group B :Mt. Druitt – Suburb in the Far "West"Group B – Mt Druitt
Group C : Hornsby – Middle-class Agglomeration Group C – Hornsby
Group D : Manly – Affluent Suburb on the Seaside Group D – Manly
Comments and Afterthoughts of The Students
Chan Po Yan, Karen
Cheung Ting Kwan
Chiu Hoi Yan
Chui Chak Lam
Leung Lai Man
Chan Po Yan, Karen
What is remarkable about the trip is the size of our group. When we first arrived in Cairns, the Australia Customs were amazed to see 61 of us traveling together! Even so, the 61 of us were united under one shared mission – that is to explore and to experience as mush as we could on the other side of the world. Then ultimately, bring back some knowledge and tactics in a hope to make Hong Kong 'more livable'. With so much gratitude to Professor Lam, Professor Chau, Dennis and every one of us, I can proudly announce that: MISSION ACCOMPLISED!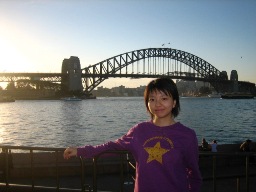 Cheung Ting Kwan
Generally speaking, the whole field trip was really great, particularly because the place we were visiting was Australia which could bring us very close to the nature. The scenery was beautiful and attractive. I loved the blue sky with white clouds which are difficult for us to see in seriously-polluted Hong Kong. Moreover, the distance to animals in Australia, especially sea birds, was much shorter than that in Hong Kong and the water of the beaches and lakes in Australia was much clearer and purer than that in HK. Australia was a good place for us to study and investigate as there were many environmentally friendly policies and strategies which are valuable for Hong Kong to take as references.
Besides the environment, I liked the chances for us to do team work and carry out interviews, especially in English. These were golden chances for us to know more friends in different years in the department, to learn how to cooperate with each other and to learn to be more confident to talk with strangers.
The trip could also help us to know more about Australia. For me, who was a member of group D and had a chance to visit Redfern, the most impressive thing known during the trip was the undesirable life of the aboriginal. During the visit, I could see how bad they were treated.
All in all, I really appreciate the opportunity given by our department for us to have field trips overseas!
Chiu Hoi Yan
This was a wonderful field trip! Via this journey, I got a chance to explore a place which was different from Hong Kong.
With more urban greenery to better the livability, Sydney and Cairns gave me a peaceful, enjoyable feeling that was different from the concrete Hong Kong. Their excellent pedestrianization and streetscape were also impressible. And that's not it, though Australia has a short history, people living there knew they should start preserving their heritage. Therefore, you would see so many Gothic buildings in city centre which were now renewed for shopping, business trading and other activities.
The most impressed thing in Australia for me was the Taronga Zoo. It emphasized on the interaction between animals and tourists. You could be able to come close to touch the animals.
In general, Australia is a country that full of smile and inspiration. Everything in Australia can inspire you to have a better, relax and enjoyable life.
Chui Chak Lam
I have gained a lot in the field studies. The enrichment is not confined in academically, it also strengthened the friendship. Before the field trip, the professor gave us a myriad of background information about the two places we were going to. That consolidated our fundamental skills in the following on-site observation and study. We were more sensitive to get into the new environment with different cultural context and races of people. We were used to and pick up the new way of living very quickly because of our preparation. In the on-site study, our professor explained a lot about the culture, the natural setting, and the human activities to us. We were like sponge absorbing the provided information very fast. After each day-time study, we had to give a group presentation to our fellow trip-mates. It's because we investigated different areas during the trip. By doing so, that certainly enriched our knowledge in a very short period. It was like division of labor, each of us shared what we saw in our studied area. Through the discussion of the presentation and the preparation of the PowerPoint slides, the sense of belonging is built up and we became friends. Our bonding was also strengthened.
We have been to two cities in Australia, one is Cairns and another one is Sydney. Even both of them are located in Australia, but the culture and the way of life is quite different. In cairns, most of them are white people and tourists. To my surprise, there are so many Japanese and Korean who are working there with working holiday visa. There are so many Japanese that every single road sign has Japanese translation. Cairns is famous of its Coral reef, so each year, it attracts over 1 million tourists to visit. All of them are so fancy with the beautiful scenery. There is blue and clear sky and sea. I haven't seen the same sky in Hong Kong for so long. The pollution may be so serious in Hong Kong. The Smog blocked it. In contrast, the air quality here is quite good. You will feel relived after a deep breath of fresh air. At that time, in my mind, a comparison between Hong Kong and Cairns came up. I thought Hong Kong still has a room to improvement even the government is working on that now. When we did so interview about the comparison between them, the interviewees were glad to go to Hong Kong. They liked the food and the culture, but felt disappointed about the pollution. As a geographer and a single student, sometimes I felt frustrated with the place, because I can do a very little in the progress of helping my home city to be a better place. Probably, I have to join some green organizations to push the progress with the group effort.
About Sydney, I was totally astounded. It's really a big city with cultural variety. There are china Town, Vietnamese Town, and Korean Town. It is not simply a city. It is a city with cultural preservation. Heritage and the Commercial buildings merge so well in the city. It is the root and foundation of the city development. For example, on top of or inside the heritage building, the restaurants and the shops are designed in the old style in order to mix them well. I saw a McDonald which is designed in the style in medieval time period. There is not only one or two building like that, there are a lot of heritage buildings in the city. It's probably because the government enforces the rule that the buildings over 60 years old have to be kept and can't be demolished. There is also a lot of museums. Just in the area of Sydney, there's already over 10 museums or galleries for cultural education. Though it's expensive to live in the Sydney, but it's worthwhile. At least, it broadens my horizon. A city may not be like Hong Kong only with commerce, there can be something else like culture. They can mix well with the right policies.
However, from a superficial look at the city, it might be perfect. When we deeply investigated some specific areas like Red-ferns with Aboriginals (the local minority) in urban slums, it surprised us. There are still some areas that the local government doesn't do well. Cultural conflicts still appear in the society. The change of advantage shifted the location of buildings like shopping malls, but there are a few policies to help those who are suffering. Like on the streets, you can still see some beggars blocking the way. When compared to Hong Kong, it is better in cultural heritage conservation, but in the aspect of the telecommunications, it is better in Hong Kong, for instance, there is a wide coverage of Wireless Network and efficient transportation networks. It's so inconvenient to get access to internet and the take a ride from one to another place in suburban area. Of course, it's better in the Central Business district of Sydney, but still, it's not better than Hong Kong. Hong Kong is more globalized.
All in all, I like the trip. I can't imagine I can learn and see so much in such a short period of time. Field trip should be like this, not just about having fun and entertainment. My dimension of point of views has been broadened. I am sure those skills I can learned in trip will help me a lot in the following years, even I work in the society.
Leung Lai Man
In this Australia field trip, it is really surprising that I have learnt a lot, from the knowledge related to the geography field to the team spirit. Certainly, this is a golden opportunity for me to explore to the world and see something which can only be seen in the book previously. During the trip, we have visited various sites with special geographical value, such as tropical rainforest and Great Barrier Reef. Also, we can have a deep understanding with other culture through interviewing and chatting with indigenous people. All of these can also help me in learning the world. Corporation between group mates is also an unforgettable experience in the trip. We learnt a lot form each other and solve the problem together; this certainly helps us to develop deeper friendship which is really valuable. Hopefully, in the future, our department can keep organizing this kind of trip for the purpose of learning.