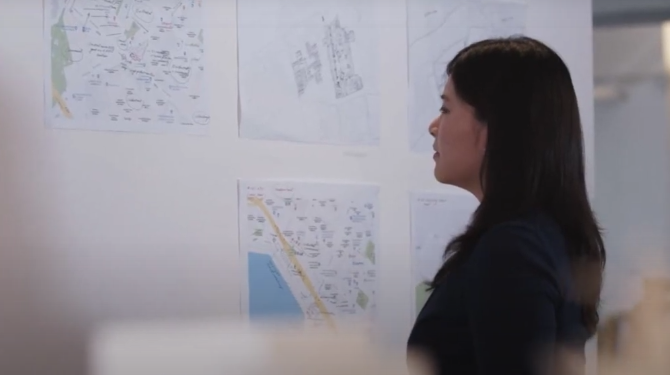 Amadeo Amelia
GRM has introduced me to the things unseen in our society. It was surprising how Hong Kong itself has so many environmental issues yet to be solved, and I am able to dive deep into it through the courses that I took here. I have also had the chance to go to Gansu – where I got to learn physical geography by witnessing it with my own eyes. I personally think that both the lectures and field trips have trained me to be more critical in solving problems and to learn more about the academic world.
Chung Sum Yue Natalie
At GRM, I met a group of friends with similar goals and interests. During the first year of university, I partnered up with a senior to join the Hong Kong Tertiary Schools COP21 Challenge regarding climate change. With our interests in the climate issue, we eventually captured the first class award. Nowadays in the green industry, it is not difficult to spot GRM graduates. The department also offered sharing sessions from successful GRM alumni on their green careers. These serve as source of inspiration for current students to pursue their dreams.
Younas Arooba
Stumbling upon the Geography department of CUHK and scrolling through the courses offered by the department, I became excited to learn more about human geography and how our everyday life can impact the very environment that sustains us. By learning a wide range of concepts from Natural Resource Management to Weather and Climate I have become well-informed regarding the precarious relationship of human activities and environment.
---
黎明暉先生
Mr. Kevin Lai
香港特別行政區政府
政務主任
Administrative Officer
HKSAR Government
大約二十年前,我決定在大學修讀地理學,當時父母對此甚是懷疑,認為攻讀法律學位會是更好的選擇。不過,我堅持初衷,因為我對人類和空間的互動,以及全球各地所存在的自然與人文差異,有著濃厚的興趣。
從事業發展的角度來看,接受三年的地理學教育,對我有著莫大的裨益。香港中文大學地理與資源管理學系開辦的學士學位課程,內容廣泛,涵蓋多方面的議題,包括自然資源管理、城市規劃、運輸和物流、生態旅遊、氣候和地質研究,以及有關全球化與國際發展辯論等。課程亦授予學生多元技能,高度符合各行各業僱主的期望和要求。以我自己的經驗為例,我從地理學所學到的東西,與我制定和執行公共政策的工作息息相關。
修讀地理學的另一項寶貴得著,是領會到這門學科的核心價值:在我看來,它們包括理解差異、專注實用性,以及尊重人和環境,這些價值不但對我的工作甚有啟迪,亦有助我面對人生的風雨陰晴。
My parents cast much doubt when I decided to study Geography in university, nearly 20 years ago. A law degree was thought to be a better option. But I stayed the course, propelled by my deep interest in the interactions between people and space, and the vast physical and organisational variations across the globe.
Three years of training in Geography turned out to be exceptionally useful from the career development perspective. A wide spectrum of topics was covered in CUHK's bachelor degree programme in GRM, ranging from natural resources management to town planning; from transport and logistics to ecotourism; and from the study of climatic and geological conditions to debates on globalisation and international development. The programme also equipped students with multifarious skill sets, including those in carrying out interviews and on-site surveys, conducting statistical analyses, theorising on facts and trends, preparing reports and making presentations in a team, etc. The unique vision, insights, strategic thinking, knowledge and skills that one could acquire from learning Geography are highly reciprocal to the expectations of employers in many businesses and professions. As my own experience suggests, they are very relevant to my job in formulating and administering public policies.
---
梁焯輝先生, JP
Mr. Jimmy Leung, JP
香港特別行政區政府規劃署
前任署長
Ex-Director
Planning Department of HKSAR Government
在當時地理系就讀的四年,是我人生中一段最精彩和享受的時光。學系的課程涵蓋範圍廣泛,包括經濟地理、人文地理、環境學、氣候學和自然地理等等。我相信透過學習不同範疇的地埋知識,讓學生建立獨有的分析能力、巨集觀全面和橫向的思維方式以及空間視野,這些特質為我日後在城市規劃領域的發展奠下基石。
學系透過舉辦本地和海外實地考察,除了讓學生有機會將在課本所學到的知識運用在實際的生活上,更幫助同學之間培養一份深厚的情誼,促進在學習上彼此的分享和交流。和諧友好的師生關係亦因此建立,這更是其他學系學生所渴望的。我在此感謝教授們和同學們對我多年來的指導和啟發。
Looking back, the four years that I spent in the Geography Department has been one of the most stimulating and enjoyable times. With the broad spectrum of the discipline covering economic geography, population, cultural geography, environment, climatology, physical geography, etc., we were exposed to subjects of different nature. I believe this had helped us develop an analytical mind, lateral and holistic thinking as well as a spatial perspective unique to geography students. These attributes have been instrumental for pursuing my career in planning.
Relationship between professors and us was very amicable much to the envy of students in other disciplines. The field camps and field trips must have played an important role in this. They not only provided us opportunities to verify what we learnt from books with what was observed on ground, but had helped cultivate a strong sense of fellowship which facilitated exchange and mutual learning. I wish to take this opportunity to thank my professors and fellow students for their guidance and inspiration.